Deans Wrecker Service Provides First-Class Towing Services
With the recent increase in tractor trailer accidents across the state of North Carolina, a local Raleigh, NC area wrecker service describes the process of clearing roadways.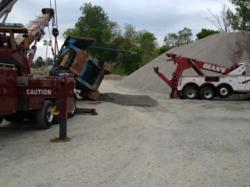 Raleigh, NC (PRWEB) May 30, 2013
Ever wonder what happens when vehicles are at a stand-still on interstates?
Dean Wrecker Service provides tractor trailer towing services to expedite the re-opening of major vehicular arteries across the state of North Carolina.
North Carolina is in the top 10 states in the country for tractor trailer accidents. It is no surprise to see stopped traffic across the Tar Heel state because of it. What drivers dont see is how the big rig gets up righted. It is usually a heavy hauling company like Raleighs own Deans Wrecker Service that is called into action.
Deans provides many towing services that include damage free, local and long-distance towing, secure storage lots, quick response time, crane services, flatbed and wheel lift trucks. They specialize in light, medium and heavy hauling, as well as mobile repair and car hauling. Whether customers are looking to relocate delicate medical equipment or bulky machinery, Deans has the right equipment and specialized training to ensure the equipment is transferred efficiently. Once a customers equipment is on one of their trucks, customers can rest easy knowing their equipment will be delivered in a safe and timely fashion.
For more information, call Deans Wrecker Service today at 919-872-4476. There is no job that they cant handle.
About the company:
Deans Wrecker Service has been serving the Research Triangle and surrounding regions since 1985. With over 28 years of experience, owner, Mr. Eric Dean has given the best service possible by offering a variety of quality services at low cost with unmatched customer service.
AD from Sponsor intended for Locksmith Tucson Az -
Locksmith Tucson Az
Deans Wrecker Service offers more than just car, truck and auto towing with machinery moving and rigging, bus, boat, RV, and trailer towing, and specialized heavy hauling. They also have auto lockout services, state-to-state relocation, and a secure storage area. For information on all of their services, please visit: http://www.towserviceraleigh.com.